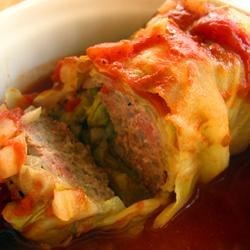 Cabbage leaves stuffed with ground beef, onion and rice, covered in a sweet and tangy tomato sauce and cooked in a slow cooker. Delicious and ranks as one of my comfort dishes. My family is my barometer. If they say it's okay, it goes on my comfort list.
INGREDIENTS:
12 leaves cabbage
Optional... I add a bit of hot spice to the beef mix to jazz it up a bit ( I love mango chipotle)
DIRECTIONS:
Bring a large pot of water to a boil. Boil cabbage leaves 2 minutes; drain.
In large bowl, combine 1 cup cooked rice, egg, milk, onion, ground beef, salt, and pepper.
Place about 1/4 cup of meat mixture in center of each cabbage leaf, and roll up, tucking in ends. Place rolls in slow cooker.
In a small bowl, mix together tomato sauce, brown sugar, lemon juice, and Worcestershire sauce. Pour over cabbage rolls.
Cover, and cook on Low 8 to 9 hours.
Enjoy...The weather is warming up and I have comfort food for every season.
FROM WITCHY AND GENIE'S 'NEVER GIVE UP' SCHOOL OF COOKING