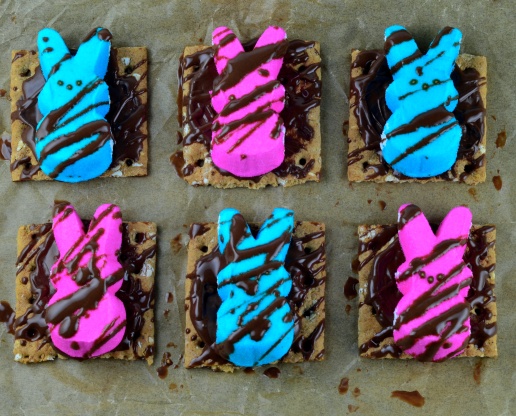 If you love Peeps, (and who doesn't love Peeps?) you'll really enjoy these S'mores made out of Marshmallow Peeps bunnies. The kids can help but they may eat more than they put on the plate.

Ingredients:

1 (11 1/2 ounce) packageof hershey's milk chocolate chips
3 (16 count) packages marshmallow peeps
1 (14 1/2 ounce) packageof honey maid graham crackers
Small bag of caramels ( optional)
Directions
Take apart all Peeps from packages and break all graham crackers into quarters.
Place graham crackers pieces onto cookie sheets lined with wax paper.
Place 3/4 pkg of chocolate chips into a bowl and melt according to instructions on package.
Dip the bottom of each Peep bunny into the melted chocolate and place on a piece of graham cracker. Continue to do this until all of the Peeps are used.
Put the cookie sheets of Peeps into the refridgerator for 15 minutes so the chocolate can cool and harden.
Melt the rest of the chocolate chips and pour the melted chocolate into a plastic zipper bag.
Cut a tiny piece off the corner to make the chocolate drizzle.
Carefully squeeze the bag to drizzle melted chocolate onto each individual Peep S'more. If you decide to add caramel also, they look better if you put the caramel on first, followed by the chocolate.
Melt caramels in bowl according to directions on package or chop them small and follow same directions as chocolate chips. Drizzle over S'mores with spoon
Place them into the refrigerator again so the chocolate and/or caramel can harden.
Peeps S'mores should be warmed up in the microwave for about 8 - 10 seconds. They also taste good at room temperature. And they look awesome. Great treat for the whole family. Enjoy!