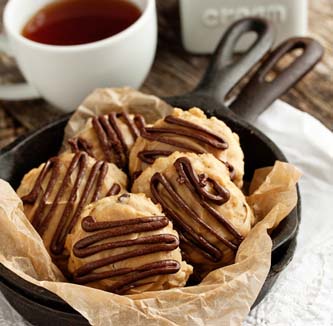 If you're a lover of chocolate and bananas, these cookies are sure to hit the spot! Banana cookies with a cake-like texture infused with mini-chocolate chips and covered in rich peanut butter frosting giving you the perfect flavor.
Ingredients
1 cup brown sugar
1/2 cup butter
1/2 cup shortening
2 eggs
3 overripe bananas, mashed (about 1 cup mashed bananas total)
2 cups flour
1 cup rolled oats
1 teaspoon salt
1 teaspoon of baking powder
1 teaspoon of cinnamon
1/2 cup mini chocolate chips
4 tablespoons peanut butter
1/4 cup confectioners' sugar
1/2 teaspoon pure vanilla extract
1/2 cup heavy cream, plus more if needed
1/2 cup semisweet chocolate chips
For the Peanut Butter Frosting: For the Chocolate Drizzle
Directions
Preheat oven to 325 degrees F. Line a baking sheet with parchment paper.
In the bowl of a stand mixer fitted with the paddle attachment, cream the brown sugar, butter, and shortening on medium power until well combined and fluffy. Add in eggs and bananas, beating until mixed thoroughly.
In a bowl, combine flour, oats, salt, baking powder, and cinnamon. Whisk together until well combined.
Slowly add the dry ingredients to the wet ingredients, mix until just combined. Fold in mini chocolate chips
Using a small scoop (about 2 teaspoons), scoop dough onto prepared baking sheet and bake 18-20 minutes, until bottoms are golden brown.
Allow cookies to cool on baking sheet for approximately 5 minutes before moving to a cooling rack to cool completely. Once cookies have cooled, frost them with peanut butter frosting.
Cookies will store in an airtight container for up to two days. Store cookies in a single layer.
In a bowl, combine peanut butter, confectioner's sugar, vanilla, and heavy cream until thick and creamy.
Using an offset spatula, frost the tops of each cookie and drizzle with melted chocolate.
In a microwave safe bowl, microwave semi chocolate chips at medium (50% power) for 3-4 minutes or until melted, stirring every 30 seconds.
Drizzle chocolate over frosted cookies. Allow to set up for at least 3 hours.

They only store for a day or two but don't worry, they will be gone long before that. You, my dear, are a baking genius.