Sometimes I am so pressed for time and so worn out I scour the internet for the simplest possible nourishing meals I can find. And if I can do it all in one pot I am a happy camper. Since I almost always have left over chicken in the fridge, this recipe was perfect.
Supermarket-roasted chicken, cream of chicken soup, and canned biscuits make the quickest, easiest version of the classic chicken and dumplings dish your grandma used to make. You cannot mess up. And guess what?? My family liked it and thought I had gone to a lot of trouble. It is comfort food and we are dusting off our comfort dishes for what we are told is going to be a harsh winter (according to the 'Farmers' Almanac')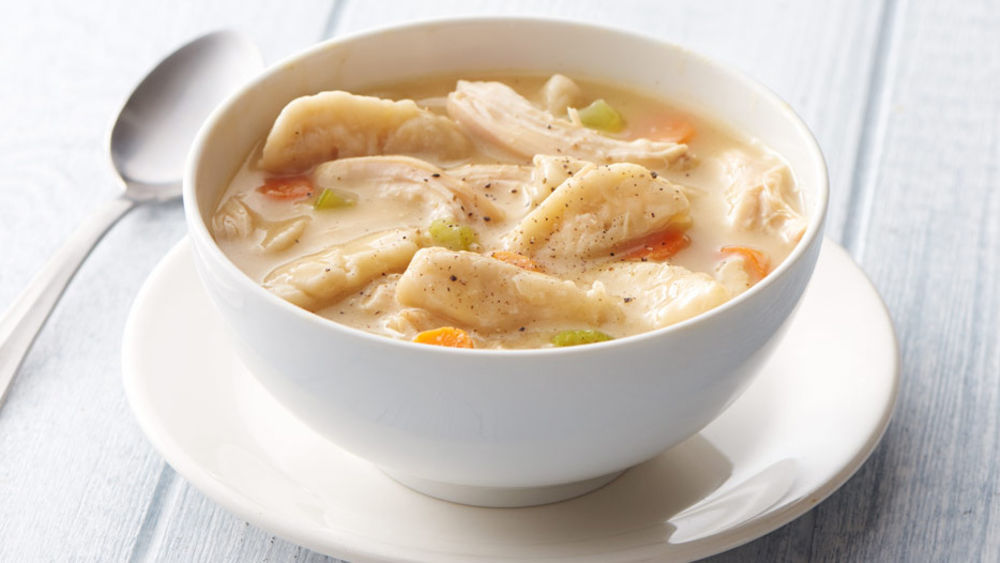 Ingredients
1 (32-oz.) container low-sodium chicken broth
3 cups shredded cooked chicken (about 1 1/2 lb.)
1 (10 3/4-oz.) can reduced-fat cream of chicken soup
1/4 teaspoon poultry seasoning
1 (10.2-oz.) can refrigerated (Pilsbury) big buttermilk biscuits
2 carrots, diced (Optional: I throw in a just few frozen peas and corn niblets to make it more colorful and interesting)
3 celery ribs, diced
1. Bring first 4 ingredients to a boil in a Dutch oven over medium-high heat. Cover, reduce heat to low, and simmer, stirring occasionally, 5 minutes. Increase heat to medium-high; return to a low boil.
2. Place biscuits on a lightly floured surface. Roll or pat each biscuit to 1/8-inch thickness; cut into 1/2-inch-wide strips.
3. Drop strips, 1 at a time, into boiling broth mixture. Add carrots and celery. Cover, reduce heat to low, and simmer 15 to 20 minutes, stirring occasionally to prevent dumplings from sticking. Serve it.
Eat it up!