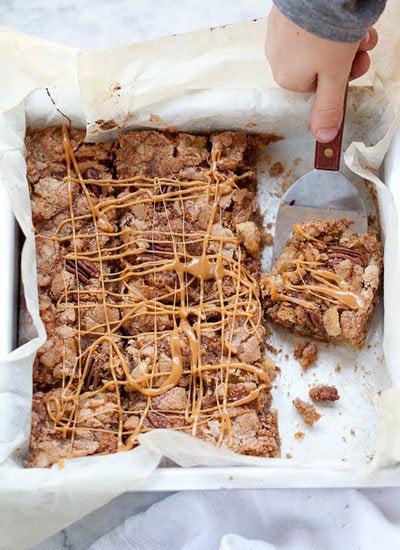 I love fall and all the bountiful crops it gives us.
Especially apples.
Use good quality, preferably, organic sweet apples. The apple flavor is meant to stand out, I used honeycrisp apples in my recipe.
Ingredients
1 stick salted butter, melted and cooled, plus more for dish
1 cup all-purpose flour
1 teaspoon ground cinnamon
½ teaspoon freshly grated nutmeg
½ teaspoon baking powder
½ teaspoon salt
¼ teaspoon baking soda
1 cup sugar
1 large egg
½ cup chopped pecans, plus ¼ cup whole pecans
2 large firm-sweet apples (about 1 pound) peeled and cut into ½-inch cubes, about 2¾ cups
20-25 caramel candies ( the melted candies work much better than store bought caramel sauce)
Instructions
Preheat oven to 350 degrees. Prepare a 9 X 9 brownie pan or pyrex dish with parchment paper that extends up the sides of the pan. Butter parchment paper and set aside.
In a medium bowl whisk together flour, cinnamon, baking powder, salt, and baking soda. In another bowl beat together butter, sugar and egg with a hand mixer until light and creamy, about 2 minutes. Add chopped pecans and apples, and stir by hand until combined. Add flour mixture, and stir until combined.
Spread batter in pan. Place caramel candies in a microwave safe bowl and microwave for 30 seconds, stir and then microwave for another 30 seconds. Drizzle caramel over batter, top with whole pecans and bake until golden, about 35 to 40 minutes. Cool on a wire rack for 30 minutes, then cut into 12 bars. For topping, drizzle additional melted caramel over the top of the cooled brownies and allow to set before cutting.
If you want really straight cuts for your brownies, cool in the fridge for 30 minutes or so to get the best edges. If you're not too particular go ahead and follow the directions above. Or if you just can't wait, eat them straight from the pan. I won't judge. This recipe got a thumbs up from my guests.