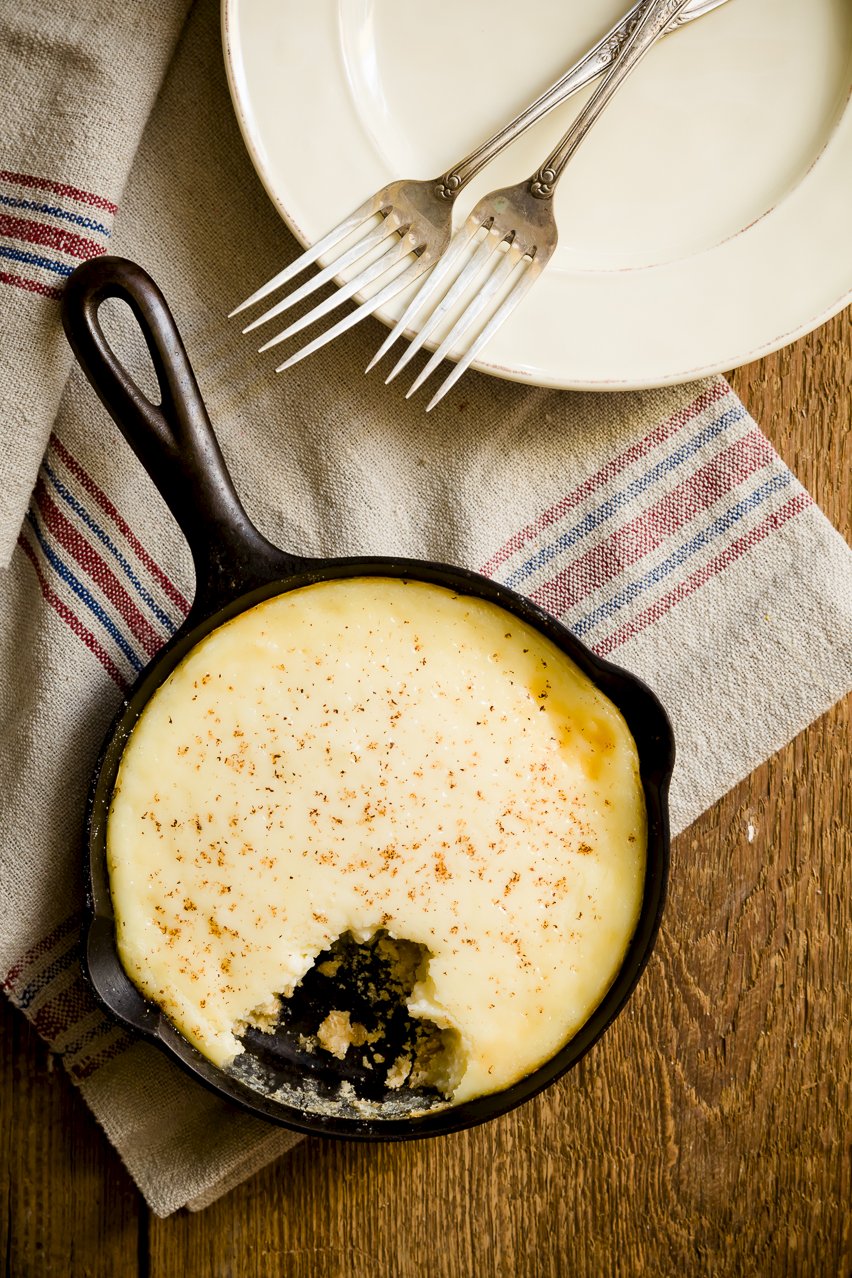 Such a simple and inexpensive recipe. It can stand alone but it goes well with a topping of berries, bananas or peaches. Have a slice.
Ingredients
Shortbread Crust Ingredients :

3 tablespoons unsalted butter, room temperature
1/4 cup + 2 tablespoons sugar
heaping 1/2 cup all-purpose flour
1/4 cup + 2 tablespoons rolled oats
1/2 teaspoon baking powder

Sugar Pie Filling Ingredients :

4 tablespoons unsalted butter
4 tablespoons cornstarch
3/4 cup sugar
2 1/4 cups half and half
1 teaspoon vanilla extract
1/2 teaspoon freshly ground nutmeg
Instructions
Shortbread Crust Instructions :

Mix all shortbread crust ingredients by hand in a small mixing bowl until they just begin to stick together.
Grease two 5" iron skillets and press shortbread crust into the bottom of each skillet. I don't press it up the sides.

Sugar Pie Filling Instructions:

In a medium-sized saucepan, melt butter on medium heat.
Once butter is melted, add cornstarch, sugar, and half and half.
Stir constantly until the mixture begins to boil and becomes thick and creamy. This should take about five minutes. You'll know it's ready as there will be a dramatic shift from a soupy liquid to something porridge-like.
Remove from heat and mix in vanilla.

Assembly and Baking Instructions :

Preheat oven to 350 F.
Distribute filling evenly over shortbread crusts in the two prepared skillets.
Sprinkle nutmeg over the filling.
Bake for 40 minutes or until tops are set. The filling will still be a little jiggly, but it won't move very much if you shake the skillet.
Remove from the oven and cool to room temperature.
Refrigerate overnight.
Serve cold straight from the skillet or cut into slices.
Notes:
You can easily vary this recipe by using a traditional pie pan, larger skillet, or square baking dish. You can also replace the nutmeg with cinnamon or a mix of the two. Lastly, you may choose to use a more traditional pie crust or leave the pie crust off entirely.